Click on the map for pictures and description...
Fraser Island is about 300km north of Brisbane and 15km off the coast of Hervey Bay and Maryborough.
Just off the coast from Queensland's Hervey Bay, is World Heritage Listed Fraser Island - With an area of 184 000 hectares it is the largest sand island in the world and the only place on the planet where rainforest grows on sand!
Over 120 kilometres long and over 30 kilometres across at its widest point, the Island has developed over 800,000 years and is a unique natural environment. Named 'K'gari' (meaning paradise) Fraser Island was home to the Butchulla people who lived on the island for over 5,500 years. Their heritage is evident in archaeological sites, midden heaps, ceremonial bora rings, and stone implements. European history credits Fraser's discovery to Captain James Cook.
The island was named after Eliza Fraser in remembrance of her dramatic shipwreck.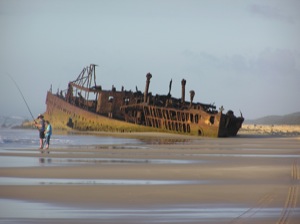 Maheno Wreck
The Maheno, the most famous of the Fraser Island wrecks, was driven ashore just north of Happy Valley during a cyclone in 1935. Once a well-known trans- Tasman liner, the Maheno was bound for a Japanese wrecking yard when she met her stormy end. Today the hull lies slowly deteriorating in the harsh salt environment, about 10 kilometres north of Happy Valley.