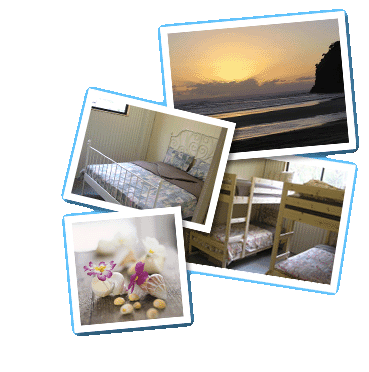 Here are what some of our guests had to say...
"My family stayed a week at Hakuna Matata on Fraser. Excellent accommodation with heaps of room and everything you need and heaps of room especially for the kids. It was clean and tidy, with everything you need at a great location at Orchid Beach. The owner of the place was a delight to talk and very helpful. I recommend this accommodation to any family coming to stay at Fraser. "
Sam, January 2010
"I recently booked this trip for my fathers 60th. Him and his mates came back and said they had a awsome time the accomodation was excellent clean and very roomy and that they will be returning and also recommending it to others. Thankyou "
T, Nov 2009
"Thanks!! This property was well suited for our fishing weekend. It was clean, comfortable and well fitted out. Less than 5 minutes to the beach and local shops. This will definitely be the location of choice for our next Fraser Island Adventure. "
Todd, Aug 2009
"the house was really nice and lorelle's hospitality was beyond welcoming :) we thoroughly
enjoyed our stay.....and the muffins :)"
Di, April 2009
"Piccadilly Place is a lovely place to spend your time on Fraser Island. The accomodation is clean and well organised. We even got freshly baked scones when we arrived. We will definitely stay here again."
Denis, August 2008
"Piccadilly Place is an ideal property to stay when visiting Fraser Island.The location of this home makes it ideal for families and fishermen alike. The ammenities available make your stay very comfortable."
Glen, June 2008